Kerry Sink, South African National Biodiversity Institute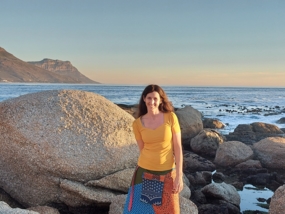 Kerry Sink
Kerry Sink is a principal scientist and the marine programme manager at the South Africa National Biodiversity Institute and serves as an associate professor at Nelson Mandela University.
She obtained her PhD at the University of Cape Town. Kerry leads the classification, mapping and assessment of marine ecosystems in the country and was the lead of the technical team for the Operation Phakisa Oceans Economy initiative that saw the implementation of twenty new Marine Protected Areas in South Africa in 2019. Kerry received a Pew Fellowship to support her offshore protection efforts in 2016 and was a recipient of a Distinguished Service Award from the Society for Conservation Biology.
She is the founder of the Southern African Sustainable Seafood Initiative (SASSI) and is passionate about capacity development in African marine science, offshore biodiversity stewardship and ocean exploration. Kerry works across the science-policy continuum and is striving to develop and diversify relationships for better ocean governance.