Event 'Immersion Sciences' 2019
This year again, scientists from the lab will speak at the 'Immersion Sciences 2019' operation. Led by the Academy of Rennes, the Region of Brittany and the CNRS, this operation aims to demystify the idea that young people have of scientific careers, in order to breed them the desire to go into these fields after high school.
In this context, Julien Marticorena, Jozée Sarrazin and Pierre-Marie Sarradin, presented their profession through conferences and workshops on Thursday, March 28, 2019.
This 8th edition took place at the Nautical Center of Ile Tudy from 25 to 29 March 2019.
Discover the complete program!

Immersion Sciences 2019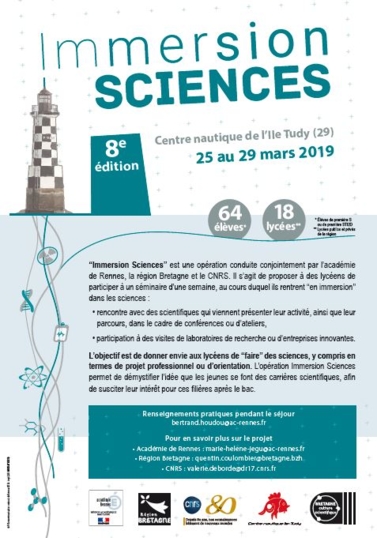 Immersion Sciences 2019