Momarsat, here we go again!
The Momarsat 2022 cruise planned from June 6 to June 27th 2022 at the Lucky Strike vent field along the northern Mid-Atlantic Ridge will carry out the yearly maintenance of the EMSO-Azores observatory. A team of 30 scientists from Ifremer, CNRS (IPGP, GET, MIO, LPO), University of Western Brittany (UBO) and University of the Azores are embarked onboard the French research vessel Pourquoi pas? : direction the Lucky Strike vent field off the Azores. The French manned submersible Nautile will be used to ensure all operations on the seafloor. The pluridisciplinary scientific team is composed of 13 researchers, PhD and Master students as well as 15 engineers and technicians, to ensure the maintenance of the observatory, its autonomous sensors and the associated sampling. This year, the team invited an artist who will, all along the cruise, capture on board activities through a number of sketches and illustrations.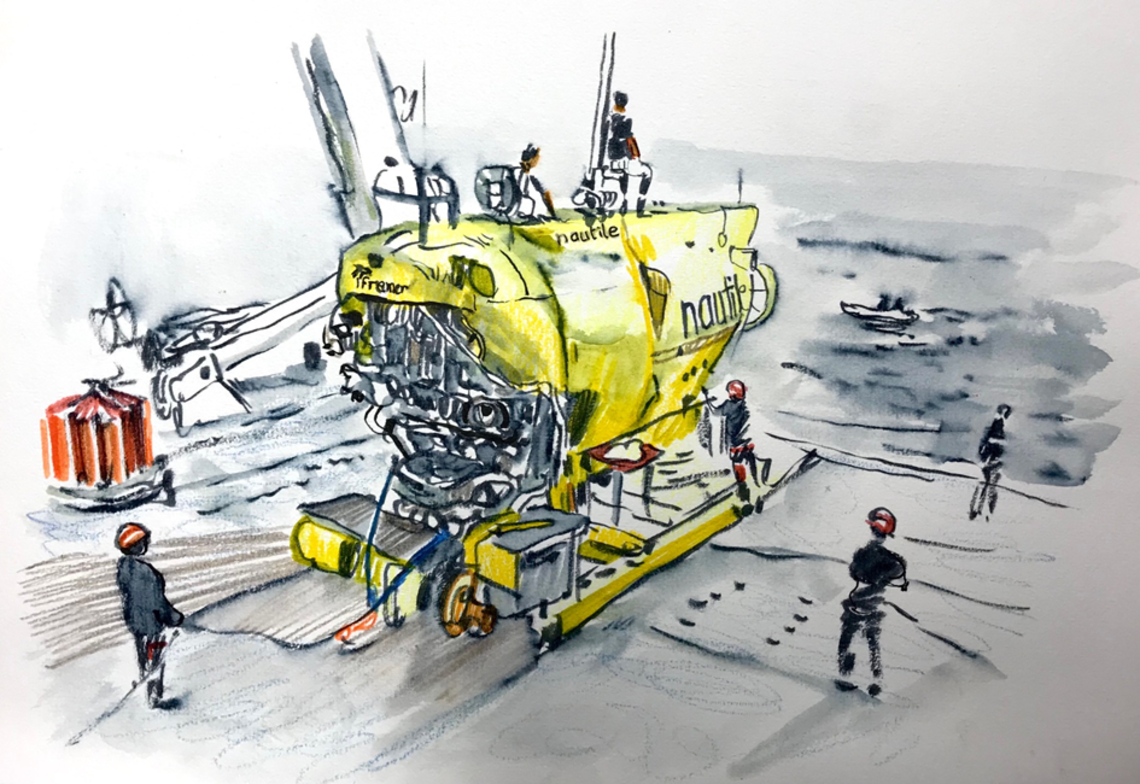 MoMARSAT 2022
EMSO-Azores (https://www.emso-fr.org/EMSO-Azores) is a non-cabled multidisciplinary observatory dedicated to the long-term integrated study of mid-ocean ridge processes, from the sub-seafloor to the water column, from geophysics to biological responses. The observatory is composed of two SEAMON stations (for Sea Monitoring Nodes) and a surface buoy Borel. The first station -SEAMON west- is dedicated to geophysical studies. It is located in a fossil lava lake, away from hydrothermal vents and connects a bottom seismometer (OBS), a permanent pressure gauge and a European Generic module (EGIM) equipped with a CTD, an optode, an hydrophone, a turbidity meter, a tsunami pressure sensor and an ADCP. This EGIM allows the long-term monitoring of background seawater dynamics. The second station -SEAMON East- is located at the base of the active Tour Eiffel edifice. It provides power and communication to a high-resolution video camera with two LED projectors (TEMPO), an instrumented microbial colonizer (CISICS), a turbidity meter, an optode and a prototype fluid sampler DEAFS that sequentially collects end-member fluids from a bell deployed directly on a black smoker. A surface buoy –BOREL- ensures data transfer between the two bottom stations and the Ifremer center in Brest and is equipped with a geodesic GPS and a meteorological station. During the year, a satellite link allows data transmission to land every 6 hours. During this cruise, the two stations and the surface buoy will be recovered and redeployed after reconditioning on board. Scientists are eager to see their data and learn all about events that occurred at the site over the year!
Repeated in situ collections of fauna, fluids and rocks as well as the measurements of a number of parameters will complement the temporal monitoring of the vent sites while extending the spatial extent of our studies. Some experimental studies will also be carry out to evaluate carbon transfer between the different faunal species associated with vent mussel communities.
To complement this multidisciplinary and interdisciplinary approach, a team of physical oceanographers will deploy Microryo, a new mooring dedicated to the study of local microstructure turbulences and perform, in between dives, several vertical profiles using a Vertical Microstructure Profilers (VMP) and CTD.
We also have at heart to share our experience at sea and raise awareness. A Facebook page for the general public will be active during the entire cruise (https://www.facebook.com/CampagneMomarsat/) and the drawings from our sketcher Damien Roudeau will be posted daily on Instagram (Momarsat).
| | |
| --- | --- |
| Logo Facebook | Logo Instagram |